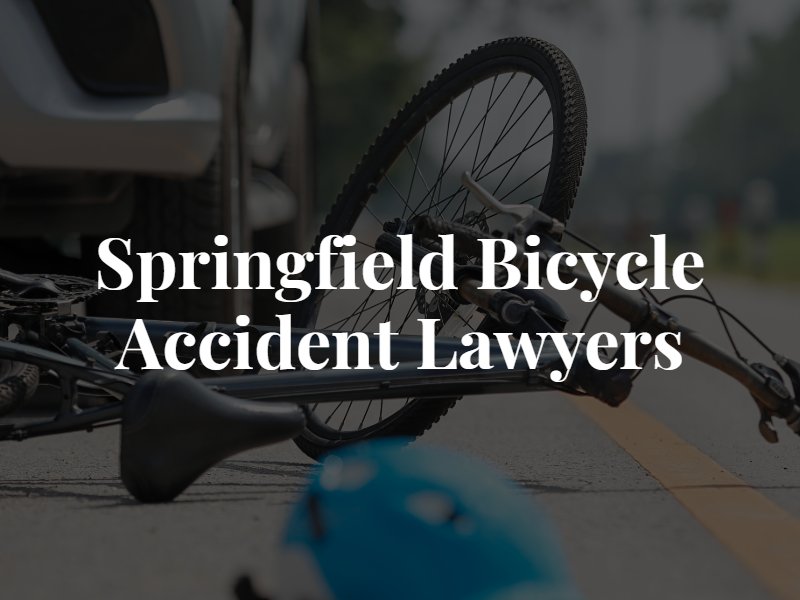 After a bike accident, you and your loved ones may have questions about insurance coverage and your ability to take action against the person responsible. The Springfield bike accident attorneys at Douglas, Haun & Heidemann, PC, conduct thorough investigations and represent clients in all kinds of bicycle-related accidents.
Springfield, Mo., is a bike and pedestrian-friendly city. For commuting and recreation, bicycling offers numerous health benefits and protects the environment. However, accidents can and do happen when bicycles and vehicles share the roads. Bicycle accidents are often severe and life-changing.
Springfield Bike Accident Quick Links
Types of Bicycle Accidents
The most serious bicycle accidents typically involve motor vehicles and trucks, but we also represent clients who suffer injury in other bicycle accidents. Defective bicycle parts and road hazards may also contribute to serious accidents.
Common causes of vehicle/bicycle accidents include:
Drivers failing to look carefully before backing out of a driveway
Drivers failing to look before pulling out of a road or alleyway with a narrowed field of vision
Drivers who open their doors and hit approaching bicyclists
Drivers failing to provide adequate space for bicyclists on the roads
Impairment, distracted driving, and unsafe speeds
Cyclist negligence including failure to follow road rules or driving distracted
In every case, we look at the driver's profile as well as the contributing factors. In cases involving professional drivers, such as commercial truck drivers or taxi drivers, we may bring a case against a company instead of or in addition to the driver him or herself. If the accident is fatal, you'll need to seek immediate help from our Springfield wrongful death lawyers.
Bicycle Laws in Springfield, Missouri
In the state, drivers must share the road with bicyclists. Bicycles have the same rights and responsibilities as other vehicles on the road. Bicyclists must:
Follow all traffic signs and signals
Use arm signals to indicate turns
Ride as close to the right side of the road as possible if traveling slower than prevailing traffic
Use proper lights and reflectors when riding at night
Not ride on sidewalks in any business districts
Yield to pedestrians
Drivers of passenger vehicles must:
Use a high degree of caution when passing or riding behind bicyclists
Not ride, park, or wait in bicycle lanes – Vehicles can only pass through a bike lane while making a legal maneuver.
Follow all the appropriate rules of the road when driving around bicyclists
What Do I Do After a Bicycle Accident?
The severity of an accident may limit your ability to react in the immediate aftermath. If you are able, stay at the scene until law enforcement arrives. Provide the facts that you know, but remember that accidents happen suddenly, and you may not completely understand all contributing factors at the time. Make sure that you or the police file an accident report. Always seek medical attention to establish a record of your injuries.
Why Hire a Bike Accident Lawyer?
In addition to helping you hold the driver or other negligent party accountable, your attorney will also help you secure adequate insurance coverage. You may need to file a claim with the other driver's insurance, your own uninsured motorist coverage, or your medical insurance. The Springfield personal injury attorneys at Douglas, Haun & Heidemann, PC, will help you at every step of your case.
Accidents involving bicycles can cause severe and life-altering injuries, including brain and spinal injuries, lacerations, severe road burns, and broken bones. These injuries may prevent you from working or returning to work in the same capacity. Our firm is committed to helping you obtain fair compensation after suffering in a negligence-caused accident. For more information about how we can help you or your loved one, contact our Springfield office.
Do You Offer a Free Consultation?
Contact a Springfield car accident attorney as soon as possible for a free case evaluation. Bicycle accidents are complex, and your attorney can help you determine if moving forward with a lawsuit makes sense in your case.
---
Client Testimonial: 5/5
★ ★ ★ ★ ★
"I am pleased with all the work done on my behalf and it is such a blessing to know I'm backed by a quality law firm." – Norm Shaddox