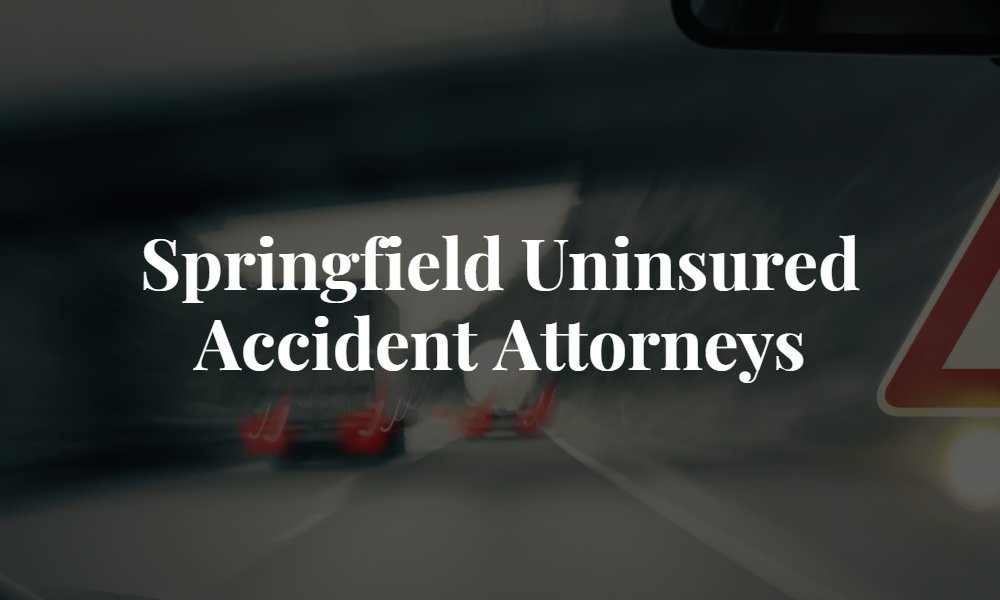 Driving on Missouri roads without insurance or proof of financial responsibility is illegal, but people do it every day. Some people go as far as obtaining insurance so they can purchase or rent a vehicle, but then cancel their policies after the paperwork goes through.
Pursuing Insurance Claims After an Accident in Springfield
Unfortunately, responsible people are the ones who often pay for uninsured motorists' mistakes. As the old saying goes, you cannot squeeze blood from a stone. Filing a personal injury claim against someone without the means to pay will not yield fair compensation. In these cases, we pursue claims against uninsured motorist coverage in policies as well as third-party claims.
Why Hire An Uninsured Motorist Attorney?
If someone doesn't have insurance, a victim may need to use his or her own insurance to cover the damages associated with an accident. At Douglas, Haun & Heidemann, PC, we will do everything in our power to hold negligent parties and insurance providers accountable in uninsured motorist cases.
Are Drivers Required To Have Uninsured Motorist Coverage in Missouri?
In the state of Missouri, every driver is required to carry uninsured motorist coverage in their insurance policy. While not mandatory, some drivers may also have underinsured motorist coverage. Underinsured motorist coverage will take over in the event that another driver's insurance does not fully cover your injury expenses.
You might think your own insurance company will offer as much help as possible after an accident. In reality, insurance companies don't take sides. They want to take in as much profit as possible while minimizing losses. If they can delay or deny your claim, even under your own policy, they will.
You deserve the full extent of compensation afforded to you within the terms of your policy. Our attorneys can help you stand up against your own and other insurance providers to secure fair compensation after an uninsured motorist incident.
Bicyclists, Pedestrians, and Uninsured Motorists
Not all uninsured motorist cases involve multiple vehicles. Determining liability can be tricky when an uninsured motorist strikes a pedestrian or bicyclist. In many cases, a pedestrian's or bicyclist's vehicle insurance policy will cover the cost of injuries. Personal medical insurance or workers' compensation insurance may also play a role in compensating these injured individuals.
Insurance coverage for bicyclists and pedestrians varies, and many of these cases require a skilled insurance expert's help. Our attorneys at Douglas, Haun & Heidemann, PC, can help you navigate the complexities of insurance after an uninsured motorist incident.
Is Missouri a Comparative Negligence State?
Missouri is a pure comparative negligence state, which means you can hold accountable any party who shares blame for the incident. When we take on uninsured motorist cases, we focus on an independent investigation to tease out all of the relevant facts and evidence. In many cases, we can identify other liable individuals or companies that share liability. These third parties may include a driver's employer, if the driver was working at the time of an accident, an auto manufacturer, or a government agency responsible for keeping the roads hazard-free.
Finding an Uninsured Motorist Attorney in Springfield, Mo.
After an accident with an uninsured motorist, you do have legal options to collect compensation. When looking for an attorney, find someone who has experience working with uninsured motorist cases. Every case is different, and understanding the intricacies of insurance and liability will improve your ability to collect adequate compensation.
Contact Our Springfield Uninsured Motorist Lawyers Today
The team at Douglas, Haun & Heidemann, PC, has a 100-year legacy supporting our practice. Our Springfield car accident attorneys understand the laws that govern accident compensation in Springfield and Bolivar. When you have questions about an accident involving an uninsured motorist, call us. We're more than happy to help you determine the best path, so you can move forward with your life.