Published in Commercial Law on December 6, 2017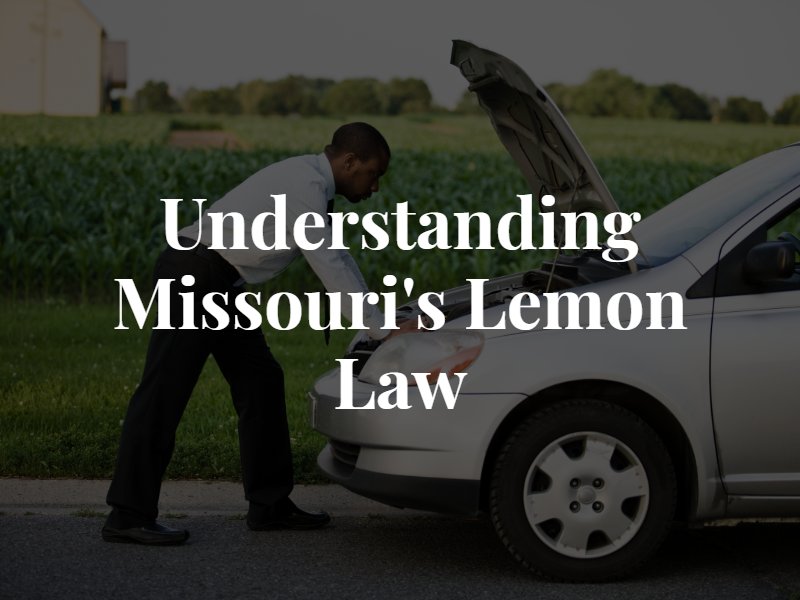 The excitement of buying a new car can quickly sour if you discover that the car has significant mechanical problems. Repeated trips to the dealer or to the mechanic can leave a new car owner wondering what to do. Thankfully, Missouri (and many other states) has passed legislation to protect consumers who get stuck with defective vehicles. This law, commonly referred to as the "Lemon Law," forces auto dealers and manufacturers to honor the vehicle warranties. 
Who is entitled to lemon law protection?
Missouri's lemon law protects owners of new motor vehicles.  To receive benefits under Missouri's lemon law, you must provide the manufacturer and the dealer with notice of the vehicle's problem within one year of the purchase date. The manufacturer or dealer can perform the repairs outside of the first year. Certain vehicles do not qualify for lemon law protection.
These include vehicles that are not primarily used for personal, family, or household purposes or vehicles that were purchased used. Manufacturers and dealers can challenge a lemon law claim if the alleged defect does not substantially impair the use, market value, or safety of the motor vehicle; if the defect is the result of abuse, neglect, or unauthorized modifications or alterations of the vehicle; or if the claim was not filed in good faith. 
What benefits does the lemon law provide?
If the manufacturer or dealer cannot bring the vehicle into conformity with the warranty after a reasonable number of attempts, the manufacturer or dealer can either replace the vehicle with a comparable new vehicle that is acceptable to the buyer or can buy the vehicle back from the consumer for the full sales price minus a reasonable allowance for the buyer's use of the vehicle. If the manufacturer or dealer attempt to repair the same defect four times or if the vehicle is out of service for a total of thirty days during the year, the law presumes that a reasonable number of attempts have been made.
What can a buyer do when the dealer or manufacturer fails to comply with the lemon law?
Often manufacturers and car dealers are reluctant to replace defective vehicles or buy the vehicle back (obviously). If this happens, buyers can file suit and ask the court to force them to follow the law. When the buyer wins the lawsuit, the court can force the manufacturer and dealer to pay the buyer's attorney fees and any costs incurred in bringing the legal action. This helps to level the playing field for consumers who have considerably fewer resources than car manufacturers and dealers. 
If you have purchased a car that continues to have problems, do not feel like you don't have any options. Missouri's lemon law will allow you to avoid getting stuck with a problem vehicle. For more information, contact our Springfield personal injury lawyers today for a free consultation.