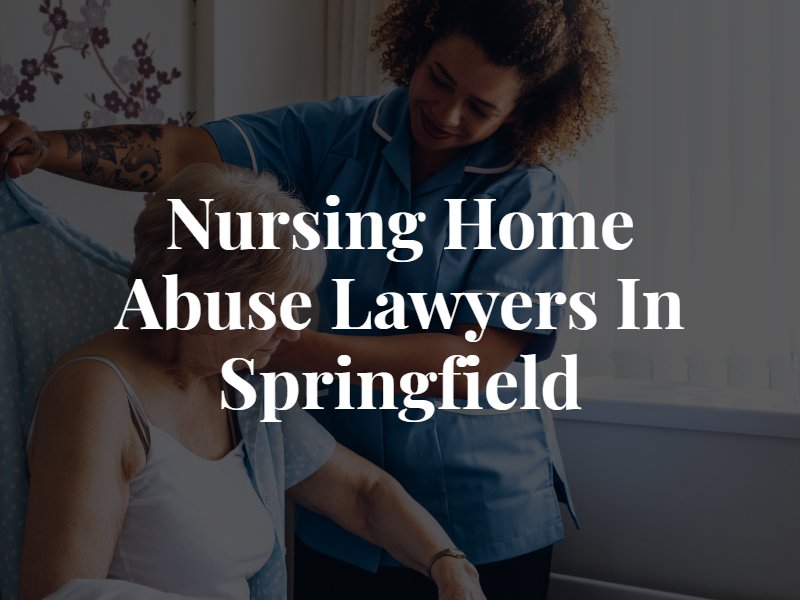 Our elderly citizens deserve our respect and care, and we should treat them with dignity. Unfortunately, sometimes our elderly friends and family members do not receive the quality of treatment they deserve or the people who provide their care outright abuse them. If you suspect a loved one has been a victim of elder abuse or nursing home negligence, contact our Springfield nursing home abuse lawyers today. We offer a free initial consultation.
Nursing homes exist to provide improved quality of life and regular care for those who can no longer care for themselves independently. When they violate this charge and endanger the welfare of those they're supposed to protect, they should be held accountable.
What are the warning signs of nursing home abuse?
Family members who visit their elderly loved ones in nursing homes should look for any signs of abuse or neglect. In some abusive situations, the victim is scared into staying quiet about their living conditions, so changes in their behavior may indicate that they have been neglected or abused. You should also be mindful of their surroundings and living spaces to ensure that they are well maintained and regularly cleaned.
How do you prove nursing home neglect?
The definition of neglect is the failure to provide necessary care to a person who requires it, to keep that person free from pain or harm, and to protect that person from potentially dangerous or threatening situations. A neglected or abused elderly individual may not show obvious outward scars or bruises and may be suffering quietly. Look for any changes in behavior, unexplained bruises, an uncharacteristic wariness or skittishness, or emotional imbalance. A neglected elder may seem withdrawn or reclusive.
If your elderly friend or relative has been hospitalized recently or suffered any type of accident in a nursing home, you should probably investigate to ensure that they are receiving proper care. Neglect can also extend to excessive medication or sedation, or frequent illness as the result of poor maintenance and upkeep of their living spaces. Any marked changes in their behavior should be considered warning signs, and be mindful of the things they say – they may be asking for help.
What is elder abuse?
Abuse extends beyond inflicting physical harm. Financial and psychological abuse of elders is common, and 90% of abusers are family members of the victim. In some cases, the apparent burdens of caring for their elderly relative spur the abuser into harmful actions. Psychological abuse can include threats, name-calling, ridicule, interfering with an elder's mental disadvantages (such as mixing up medications or changing things around in their living space to confuse them), or extended periods of isolation.
Financial abuse is defined as a caregiver stealing the elderly victim's identity, writing checks in their name, or illegally using their credit cards or other assets. In some cases, the elder is intimidated or threatened for financial gain, and this may occur in nursing homes if staff members have access to their charges' finances in any way.
What should I do if I expect elderly abuse?
If you suspect your elderly relative or friend is being neglected at their nursing home or shows any signs of abuse, take action to ensure they do not suffer any longer than they already have. Elder abuse and nursing home neglect are particularly heinous offenses, and the offending parties need to be held accountable for their actions. Contact a qualified Springfield nursing home abuse lawyer.
Neglect may result in the victim being able to claim damages for any personal injury or diminished quality of life they have suffered as a result. The nursing home administration and staff, as well as their personal caregiver, may be accountable for unsanitary living conditions, improper health care and medication, malnutrition, repeated injuries, and any types of abuse.
Do you offer a free consultation?
The legal experts of Douglas, Haun & Heidemann have provided Missouri with compassionate and thorough legal representation for more than 100 years, since the firm's founding in 1912. If you believe that your elderly relative or friend is being abused or neglected, don't hesitate to investigate.
If you see any warning signs, it may be time to take legal action to ensure that they do not remain in a neglectful or unsafe environment a moment longer than necessary. Reach out to our team of experts if you have any questions or have noticed anything that may be an indicator of nursing home negligence in the Springfield area.
---
Client Testimonial: 5/5
★ ★ ★ ★ ★
"I am pleased with all the work done on my behalf and it is such a blessing to know I'm backed by a quality law firm." – Norm Shaddox