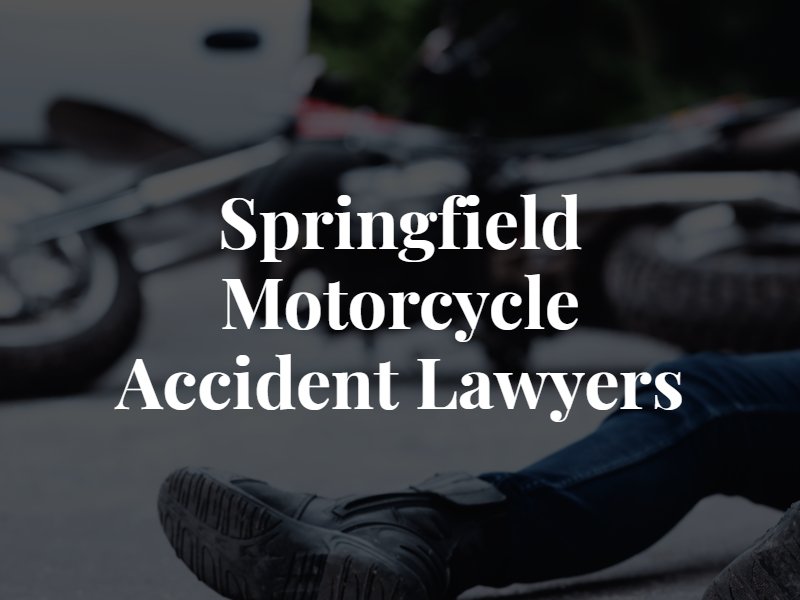 The slim profile and high speeds at which motorcycles travel put them in a different auto accident category. Motorcycle accidents can cause severe injuries and may forever change the lives of those involved. If you or a loved one suffers an injury in an accident, you need a Springfield motorcycle accident attorney who understands motorcycle injury laws in the state of Missouri.
At Douglas, Haun & Heidemann, PC, we understand the causes of motorcycle accidents and the liability issues that motorcyclists may face on the roadway. Our Springfield personal injury attorneys represent clients in all motorcycle accident cases.
Motorcycle Accident Resources
Causes of Motorcycle Accidents
Motorcycle accidents typically happen because of someone's carelessness. Some of the most common reasons for accidents include:
Distracted driving
Drunk driving
Speeding
Failure to watch surrounding traffic
Motorcycle defects
Preventable road hazards
Is Missouri a Comparative Negligence State?
Yes. In many cases, multiple factors contribute to the accident. In Missouri, we operate under a pure comparative fault rule. Insurance adjustors and the courts may reduce a damage award based on a percentage of fault. For instance, if you are 40% responsible for causing the incident, you can collect only 60% of the total damages awarded in the case.
What Compensation Can I Recover After a Motorcycle Accident?
In severe motorcycle accidents, victims often suffer from injuries that will cause pain and suffering for a lifetime. Catastrophic injuries including amputations, brain injuries, spinal injuries, and road or fire burns cost victims physically and financially. After an accident, you may have trouble paying bills, getting insurance approvals, and maintaining steady work. Seeking legal advice will improve your ability to address these concerns.
The right attorney will help you secure the best possible outcome in your case, so you can focus on recovery. At Douglas, Haun & Heidemann, PC, we explore every avenue of compensation available to our clients. You don't have to suffer with the aftermath of a motorcycle accident injury alone.
How Do I Prove Liability in a Motorcycle Accident Lawsuit?
After a motorcycle accident, another driver is only one potential source of compensation. In single-vehicle motorcycle accidents, a motorcycle defect or a roadside hazard may contribute to an accident. All drivers on the road owe a duty of care to motorcyclists. Our job is to get to the bottom of the matter and pursue actions against those responsible.
When we take on a motorcycle accident client, we conduct thorough independent investigations to uncover pertinent details. Our team has access to a network of accident reconstruction specialists and other experts who can help us create a strong case filled with the fair representation of the facts.
Potential defendants in a motorcycle accident case include:
Other drivers – We file lawsuits against other drivers who negligently injure those around them.
Professional drivers – When professionals cause an accident, they and/or their employers may carry responsibility for any resulting injuries.
Auto manufacturers – If a defective part causes your brakes to lock or your gears to shift improperly, we will file actions against the manufacturer responsible for providing safe parts.
Insurance companies – Insurance plays a role in every auto accident case. When insurers fail to provide motorcyclists with the appropriate benefits in a timely manner, they are in the wrong. We ensure that insurance companies treat our clients fairly.
Securing Legal Representation in Springfield, Mo.
If you or someone you love has suffered a serious injury in a motorcycle accident, don't wait to reach out for help. The sooner you contact a personal injury attorney for a consultation, the sooner your attorney can start moving on your case. Accident cases can take time to settle, and starting quickly will improve your ability to recover fair compensation in a timely manner.
Do You Offer a Free Consultation?
Yes, we offer a free case evaluation. Our firm is dedicated to helping motorcyclists find qualified medical support, obtain full compensation, and start healing. Allow us to help you move forward after an accident, and you'll see why our firm has a 100-year legacy of success. To get started, contact our Springfield or Bolivar office today.
Client Testimonial: 5/5
★ ★ ★ ★ ★
"I am pleased with all the work done on my behalf and it is such a blessing to know I'm backed by a quality law firm." – Norm Shaddox